New Signing: Eagle*Seagull
2006-07-05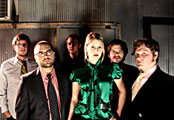 Our new must-have record comes from five oddballs plus a lady, straight from Lincoln, Nebraska. That's quite close to Omaha with its indie label Saddle Creek and although Eagle*Seagull released their album on the new Paper Garden Label they fit perfectly into this neighbourhood.
The eccentricity of The Arcade Fire, the moods of Interpol, the casualness of Pavement. Eagle*Seagull have been compared to many artists and bands, yet they sound like none of them.
That's what the Us press thought as well: "Eagle*Seagull is simply put a truly incredible band with truly incredible songs" and "Eagle*Seagull possesses a world of talent".
We will release this marvel on September 15th. and a tour is planned.