Tocotronic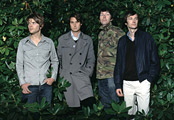 Best Lado chart entry so far!
2005-02-09
Germanys indie heros Tocotronic entered with their 7th full-length album "Pure Vernunft darf niemals siegen" on #3 in the german media control top 100 album charts, which is the highest chart position for Tocotronic and Lado Musik so far. Sounds all great, but no reason for taking it easy now. The band just shot the video for the 2nd single out of the album called "Gegen den Strich" at the Hamburg-airport. The single is set to be released on march 7th.
Furthermore the bands is getting ready to hit the road for more than 30 shows. Dont miss the band on their "Pure vernunft darf niemals siegen"-Tour starting febuary the 28th.
Upcoming shows:
presented by MTV, Musikexpress, Spex, laut.de und Texte zur Kunst.
10.02.05 D PotsdamRadio Fritz Sendesaal
28.02.05 D BremenSchlachthof
01.03.05 D KölnLive Music Hall
02.03.05 D FrankfurtMousonturm
03.03.05 D HeidelbergHalle 02
04.03.05 CH ZürichRote Fabrik
05.03.05 CH LuzernSchürrRadio 3fach
07.03.05 CH BaselReithalle
08.03.05 D KarlsruheFesthalle Durlach
09.03.05 D SaarbrückenGarage
10.03.05 D ErlangenE-Werk
11.03.05 D MagdeburgFactory
13.03.05 D RostockMau Club
14.03.05 D KielMax
15.03.05 D HamburgGroße Freiheit
20.03.05 D KasselMusiktheater
21.03.05 D MünchenElserhalle
22.03.05 A GrazOrpheum
23.03.05 A WienArena
24.03.05 A WienArena
26.03.05 A LinzPosthof
27.03.05 A InnsbruckTreibhaus
28.03.05 D RegensburgKulturspeicher
29.03.05 D JenaKassablanca
30.03.05 D DresdenAlter Schlachthof
31.03.05 D LeipzigConne Island
02.04.05 D DüsseldorfZakk
03.04.05 D BielefeldForum
04.04.05 D HannoverCapitol
05.04.05 D BerlinArena
03.06.05 D NürburgringRock am RingFestival
04.06.05 D NürnbergRock im ParkFestival
25.06.05 D HerzogenrathEins Live KönigstreffenFestival
16.07.05 D GräfenhainichenMelt Festival
Support febuary until april: La Grande Illusion.