Tocotronic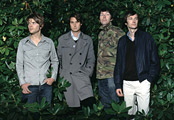 THE FOLLOWING HAS HAPPENED:
Rick McPhail, known as the supporting keyboard player at concerts, has joined the boat as the second guitarist and fourth member of the band, and there's no turning back.
This time we rewarded ourselves in the form of a long visit to the studios and lived out the crises and flights of fancy in the rehearsal room. A classic. Although most of the songs deal with madness, ecstasy and recklessness, it was all very civilised.
JUST NINE DAYS:
The lion's share of the album was recorded under the watchful eyes of Moses Schneider in a small room with plush curtains draped on the walls in a cellar in the heart of Kreuzberg, West Berlin. Live and in "band" constellation.
And you can hear that.
That would have been it for most other musicians, overwhelmed by the lush splendour of these rock songs, but we then went to the renowned Soundgarden Studio to record more instruments. We thought it'd be an elegant move to record countless ideas and then to reject them again straight away.
Another important influence on the sound was mixing it at the provincial PUK-Studio in Denmark under Michael Ilbert's supervision.
Incidentally, it's being released by "L'Age D'Or" this time, and the commercial music sector can plunge into confusion without us.
THE OLD MEDIUM: the "compact disc"
made the immense length of this album possible. You could try and listen to this record in one go, or, analogous to the even older vinyl disc, have a break halfway.
We don't want to advise you, let alone tell you what to do, and shall therefore sign off with a rather euphoric…
enjoy!
Yours,
Tocotronic
PURE VERNUNFT DARF NIEMALS SIEGEN
The latest tocotronic maxim contains immensely mature wisdom as well as adolescent defiance: PURE VERNUNFT DARF NIEMALS SIEGEN (being purely sensible must never triumph). A worthy solution for a new album that comprises about three and a half thousand years of mankind's thirst for knowledge and three and a half minutes of maximised extremity. TOCOTRONIC have now enriched their extravagant creative activity by an extravagant number of mind-expanding images. Here are 13 wondrous songs of sweet ardour and infectious lunacy that deal with experiencing being far away, WEIT DRAUßEN, and yet coming very close. They address everyone because nobody has put a stop to the dastardly regiment of fear, such as the persistently spread fear of pathos and embarrassment which Tocotronic counters with a manic vortex of passion and agony. The price is a self-chosen change of image on thin ice. A tightrope act across ravines of wasting oneself and of powerlessness. The lyrics have a thing or two to say about that, too.
Rock music, that is, if it is good, doesn't sing about safe havens. Why should it, it hardly knows what they're like. Being on the go is its duty and aim.
So Tocotronic raise the anchor, cast off the ropes, and gain momentum: and with them a powerful rock sound with classical influences and a deep glow about it at the core. The band sounds as direct and contoured as hardly ever before. How did they do it? Nine days in a cellar room in Berlin-Kreuzberg, another five days at Hamburg's Soundgarden Studios and a trip to Denmark to do the mixing with Michel Ilbert (Hives, Cardigans) was all it took to turn their acoustic drafts into fully-electric dream images of songs. Their last studio album "Tocotronic" (2002) may have been an opulent bath in milk and honey – congenially staged by producer Tobias Levin – but their sound on "Pure Vernunft darf niemals siegen" has undergone some serious compression. The man at the congenial controls was Moses Schneider (e.g. Beatsteaks) while the band played "live", and with only a few overdubs, making the new songs roll on faster and riskier wheels.
There are fast racing hypno movers such as the mighty opener "Aber hier Leben, nein danke", but also unbridled Toco folk (title track), mellow pop melancholia ("Angel", "Gegen den Strich"), or smouldering ballads ("Ich habe Stimmen gehört"). All in all, however, the album is dominated by precise, pulsating guitar rock, the new second guitarist is clearly audible. For Tocotronic are now a foursome: besides Dirk von Lowtzow (vocals, guitar), Jan Müller (bass) and Arne Zank (drums), Rick McPhail – known as the supporting keyboard player at concerts – has now come on board as a guitarist.
The sound on "Pure Vernunft darf niemals siegen" sends Dirk von Lowtzow's illusion-rich lyrics straight to your heart and legs, similar to a delicious, instant poison. With dark-tinted timbre and bold, risqué phrasing, he hangs unreal pictures into the treetops of the music like forbidden fruits. They speak of splendour and chaos, enlightenment and derangement, of conflict between "highest highs" and "lowest lows". The lyrics no longer bother with innuendos. It's more than just a case of playing with moods, everything is at stake.
Tocotronic make a passionate offer. Take them up on it and entrust yourself to them, and you will see.
Peter Abs