Metric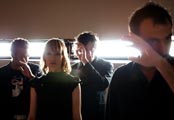 During the last years you could face METRIC everywhere:
On MTV, in commercial Rock-Radios, live in Conan O´Brians Latenight-Show and also at French film-festivals.
You could watch them supporting the Rolling Stones in Madison Square Garden or receiving Gold designation for their first Album.
You could find Emily playing solo piano shows in churches, or diving off the stage at Toronto's Mod Club Theatre,
where Metric played an unprecedented four sold-out nights.
This is a band comfortable making music for both the misfits and the masses.
And that's the funny thing about the never-ending battle between pop and art – the goalposts keep changing. And for Metric's Emily Haines (vocals/synths), Jimmy Shaw (guitar), Josh Winstead (bass) and Joules Scott-Key (drums), the most exciting thing is being able to play for both sides.
After spending much of the past two years in the company of strangers across North America, Europe and Japan, Metric retreated back to the comfort of friends and family. Since Jimmy and Emily first began collaborating seven years ago, their list of hometowns has become almost as well-known as their repertoire. But by the end of 2004, Metric realized that everything they were searching for could be found in their original home base of Toronto: a wellspring of moral support (most notably from their childhood friends in Broken Social Scene and Stars), a culturally inspiring community and, of course, affordable rent.
This last factor was particularly conducive to the creation of the band's second LP, LIVE IT OUT. As luck would have it, a cheap east-end loft space became available upon Jimmy and Emily's return to the city in autumn 2004. (Joules and Josh both retained residency in Oakland but made frequent visits.) Located on the second floor of a bank, their new home studio was created, where the band could regularly convene and work out ideas without the pressure of watching the clock – and without the interference of an outside producer.
LIVE IT OUT is the result of Metrics development over the last years, away from strength formalism of New Wave up to a felicitous fusion of guitar and keyboard sounds.
Indie-Songwriting ("Too Little Too Late") and impetuous Rock-posing ("Empty") take turns. LIVE IT OUT also offers Groove-Rocker ("Glass Ceiling") and disco compatible sounds like "Poster Of A Girl".
MSTRKRFT /Death From Above 1979) remixed the Single "Monster Hospital" to an unbeatable Club-Hit.
In Autumn 2005 LIVE IT OUT released in Canada and the USA , got on the Top-40 of the Billboard Headseekers, the Top-50 of the Independent-Charts and became nominated for the top-class Juno Award (the Canadian Grammy).