Grom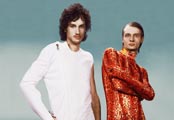 12inch - 2143-0
12inch - 2151-0
out Aug 02

The word "Grom" might have been derived either from a Polish assault troop or the Russian word for thunder – luckily, the music from this Berlin electro duo has little to do with either of the two.
The man responsible for the sophisticated sounds is Mike, who already did production work with Dakar and Grinser; the angelic vocals come from Florian Horwath, who was formerly in charge of the musical contents, special agent and presenter on the Austrian indie radio station FM4. With their track "Love Rocket", this twosome has been causing quite a sensation in the clubs since May.
Not only the much acclaimed performance at Mayday 2002, but also their shows at Sonar last year, certainly provided unforgettable moments, not to mention the 200 plus live concerts at the on and off clubs of the Berlin scene and the rest of Germany.
Be it Cookies, WMF or Ultraschall in Munich: since last summer, "Love/Rocket" has developed into a really big hit at various clubs.
Moreover, its increasing degree of illustriousness from Berlin to London, Paris, L.A. or Lisbon has been amplified by many renowned and loyal fans such as Miss Kittin or Lexy & Kai Paul, who meanwhile never leave the house without the record when they go on DJ trips (Lexy has already gone through two 12"s…).
This phenomenal success in the club scene and at live concerts was the decisive factor for us to re-release a new production of "Love/Rocket" for the radio. And this was seen to by none other than our favourite MJ Lan, who catapulted Commercial Breakup ("Bizarre Love Triangle") onto the airwaves and Jeans Team ("1-2-3-4") onto TV with his mix.
And are also particularly proud of the Lexy & K Paul remix (currently on everyone's brain with "Girls Get It First") that sends the "Love/Rocket" into the electro rock firmament!
The video was produced by Stephanie von Beauvais (Tocotronic, Egoexpress, Ian Pooley,
Tesafilm) and shot at minus 15 degrees in the outskirts of Berlin near the Polish border.
Delightful, all of it! Please play it.
Grom Love/Rocket
Musik kaufen