Commercial Breakup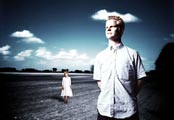 Even a wily record boss can experience some exciting moments of a very special nature…..
one day, about a year ago, a young man we knew turned up at our Ladomat office, put a cassette into the tacky recorder and said, "I think this will be to your liking." Within seconds the Lado office was filled with a smell of Christmas, birthdays and New Year's Eve, all at the same time. People and members of our staff known for listening to nothing but Joy Division or old Marius Müller Westernhagen (a German rock star) records all day, started gathering in front of the tape recorder and just stood there with a big smile on their face. Minutes later they were shaking hands, wiping the tears from their eyes and considerable sums of money changed hands. We had become the lucky owners of a musical King Ludwig castle. And what's more: you don't have to be Bavarian, American or Japanese to taste Commercial Breakup's bombast-romanticism with butterfly wings. Although we have received licensing
offers from big names who reside precisely in these areas that show what potential lies in Global Player….
The name of the band shows where it's at. Top A1 rumble pop, a true delight. Many months of euphoria passed until this record – probably the most pop-influenced number on Ladomat so far – was released…
Commercial Breakup began as a project for two compilation contributions two years ago. When we say compilation we mean compilations for galerie berlintokyo in Berlin (Spielkreis 01 + Spielkreis 03), hose former co-organiser, Vredus, is also the producer and songwriter of Commercial Breakup. While some of the contributions, to put it bluntly, are characterised by an electro-trashy, relatively run-of-the mill way of playing music, Commercial Breakup pleasingly stood out from the Berlin-Mitte concept by resenting
fascinating pop tunes.
"little bear" was the first number Vredus and vocalist Elke created. Vredus recorded the entire instrumental and passed it on to Elke in the form of a cassette who then added the vocals and lyrics. Commercial Breakup have been working like this ever since. For Spielkreis 03 they recorded "all I love is green".
The fascinating thing about Commercial Breakup is this amazing talent for picking out spine-chilling melodies and intelligent pop arrangements. And then there's their unique way of working: Vredus and Elke have never done any of the composing together, have never played music together in the same
room (except at 3 live performances) and yet Commercial Breakup sounds surprisingly homogenous and tight. While the technical standards have steadily been rising as a result of the increasing opularity of electronic means of creating music, Vredus has had to make do with his long outdated equipment. This makes the album "Global Player" all the more remarkable.
No wonder Matthias Arfmann (producer of Absolute Beginners and the platinum-winning single "irgendwie, irgendwo, irgendwann" by Jan Delay) was so impressed by Commercial Breakup that he spontaneously added his golden touch to "you and I" together with Platin Martin (ex Beginner).
The ultimate pop hit (and hopefully the first real Ladomat radio-single chart hit since Whirlpool's "Cold Song"), "walking back home", was produced by Vredus together with MJ Lan (e.g. "kraze" and "Generate Bodies" on Low Spirit/Electric Kingdom). There has hardly been pop music from these realms that's exuded so much sunshine. A second single version also comes from Matthias Arfmann, not forgetting the remixes by Tobias Thomas and Superpitcher (Köln Kompakt) and Console (Weilheim).
Studio guests on "Global Player" include Carsten "Erobique" Meyer, Jörn Hedtge (Department), Christiane Rösinger (Lassie Singers, Britta) and Henning Elke and Vredus on the guitar. Elke believes this is the best track on the album.
The album title, "Global Player", has by no means just been chosen out of the blue: Commercial Breakup sounds so pleasantly un-German that a comparison with projects like St. Etienne readily springs to mind. This is something really big. May the stars in the pop heavens always shine
so clear and bright!
We hope you enjoy it and will write great reviews with exciting headlines and that we have mega successful pre-release sales….
Commercial Breakup
Musik kaufen