Chelo Scotti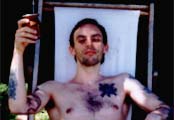 in the mid-nineties argentinas marcello scotti arrived to the magic hamburg triangle between golden pudel club, reeperbahn fuck-up and the elb-beach to build himself a world of music, djing and further live-saving activities.
his background between industrial and metal is still reflected within his tatoos and in between his music, which once had been dark noise that opened up its depths for a melancholia that came to swing thanks to british and german electronics.
big emotions against the party-must!
so far:
"estoy" on cd compilation operation pudel 2001 (lage dor)
"lejos" on mp3 compilation buy! buy! (enduro)
Chelo Scotti
Musik kaufen