beigeGT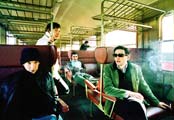 Hollow pillars don't promise anything and give all they've got
The band wants to be like advertising pillars, we are told. Yes, why not? Good attitude. Trivially speaking, advertising pillars signify all sorts of things: catchy conveyance on the outside, hollowness on the inside. At least that's more than nothing, one could say – or, putting it in a more benevolent way (and in this case more apt), the outside already presents half the battle and the knowledge of the secret always swings along on the inside. Sounds enticing, enigmatic, yes almost mystical. And charming: a band that hasn't put on the full sales-strategy facade yet, one that still relies on the components time and interest as regards its audience. Ace non-strategy. So: five pillars, five secrets. Or, to put it in facts: Martin (guitar, vocals), Klaus (bass, vocals), Wolfgang (guitar, vocals) as well as the Teichmann brothers (renowned as gebr. Teichmann from 12"s of Kompakt fame and their own label, Festplatten) Andi (drums) and Hannes (moogs). But that suffices for the relative clauses in your articles, as far as basic information is concerned, so let's move on to more empathetic aspects. Who wasn't deeply touched when they listened to the cover version of "Knights Of The Jaguar"? Band conquers dancefloor. Or: we don't need your machines. We have better ones. Yes, beigeGT still have the ability to generate emotions with instruments. Indie and pop are boldly fused – not always as sophisticatedly over the top as on their version of the DJ Rolando/Underground Resistance mega hit, but always with this anything's-possible-here gesture which has led to the creation of so many songs for eternity between Louisville, Kentucky and Olympia, Washington.
If beigeGT have only one thing they can teach us, then it's that drawing the line between electronics and the band is no longer possible, and quite rightly so: for them, thrusting your hair forward is just as sexy as the groove adaptation of Funkadelic. This is urban tinkering around beyond the big poser cities. Exactly: Regensburg calling – and all those other places one has never been to.
Nevertheless an urban approach in all the dignified secretiveness. beigeGT negotiate the supermarket of twisted emotions in four well-known languages. The focus is on "she", "disco", "great trips" and "a long relationship from time to time". This the band covers with jukebox and heroism. Sounds like posers with a much too large record collection. But: you get over it. Because flirting with their own pluralism isn't fun. beigeGT consists of punks, guitar pop artists and minimalist techno guys – and they play their way towards each other. And tell stories which we know from everyday life amongst losers and the resurrected, but also stories about things we never want to hear about, such as the one about the marriage in Rio – what a wonderfully ambiguous image. After all: Rio is really only a place to go for those who have "sin" tattooed on their forehead, but not for someone who wants to say words like "eternity", "faith" and "honesty". Words that one had better save for a place like Regensburg.
But there's one thing we've got to say – yes, criticism must also be allowed for a bought info-writer team: there was really no necessity for the title "Jukebox Heroes". There was no need for so much flattering affirmation to pub audiences. These hits will also be noticed without the "presentation in a pub context". Because: they (indie-)rock. In a way that was unheard of in these realms. Someone who has tasted so much dust, euphoria and abstraction is someone you immediately want to know from afar, isn't that so? A ten-hour flight plus X. But this comes round the corner. Pretty close. Yes, they bewilder, but isn't the feeling of not understanding though feeling happy precisely what we all strive for, at least every three days? Exactly. Amazing what you can find in advertising pillars, isn't it? We are convinced.
Linus Volkmann and Thomas Venker