Arne Zank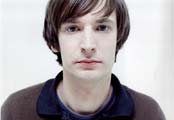 Are they going out tonight or are they going to stay in? Are they in love or still looking for love? Are they really poor or clueless as to how to spend all their money? Wouldn't it sometimes be nice to just have it all at once? It is exactly out of that urge that this music was written and composed so carefully. Freed of all unneccesary burdens, well balanced like an ayurvedan meal, composed using the most modern technology, this music speaks a language which can be understood by every being on our planet: a musical esperanto language for unbiased ears.
The individual songs and tracks tell a story of life between ambitions and reality, utopia and confusion, decency and transgression, of kings and children.
Arne Zank is back!
Tocotronic's drummer who back in autumn of 2003 made the crouds cheer during his solo appearances on the L'Age D'Or jubilee tour returns to the stores with his first 12" record. "Instrumental poetry", Carol von Rautenkranz, head of L'Age D'Or, ecstaticly wrote into the liner notes for the track "Balance Ballet" (Jubellado-Compilation) back then. Love From A To Z was afterwards mixed and refined by Turner a.k.a. Keni Mok.